BALTIMORE, MARYLAND – September 8, 2017 – Senior management from Adams Funds, which consists of two of the country's oldest closed-end funds, Adams Diversified Equity Fund (ADX) and Adams Natural Resources Fund (PEO), attended the Closed End Fund Association's Advisor Summit on September 20, 2017 in Chicago. Lawrence Hooper, General Counsel and Chief Compliance Officer at Adams Funds, participated in a panel discussion with other leaders in the closed-end fund (CEF) industry on the role closed-end funds can play in a diversified investment portfolio. The group discussed the benefits and challenges to the CEF structure.
One of the primary benefits of CEFs is the structure provides fund managers the ability to take a long-term view on investments. Unlike open-end funds that may have to sell stocks at inopportune times to meet redemptions, CEFs have permanent capital, providing fund managers more flexibility around investment decisions.
Another compelling aspect of CEFs for many investors is the distributions the funds pay. Adams Funds is committed to a 6.0% distribution, which many investors have chosen to reinvest. The impact of reinvesting these distributions over time is significant. For example, if an investor in ADX had reinvested their distributions annually since 2002, the total return was 203.8%. The magnitude of reinvesting is illustrated in the chart below. It compares the total return from reinvesting with the simple return from stock price appreciation during this period, which for ADX was 20.2%. For PEO, even though the stock price return during this period was 5.2%, the total return for investors was 198.5%.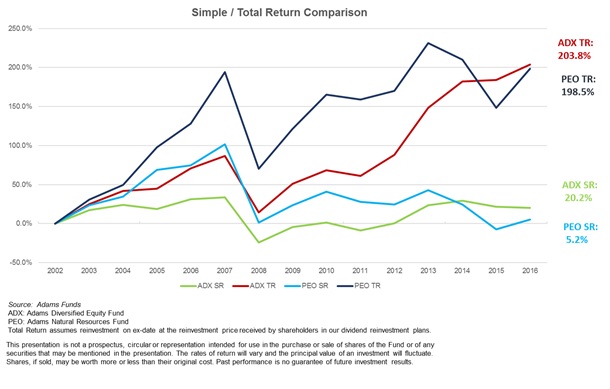 Although discounts for CEFs have narrowed over the past year, they remain a focus for the industry. Many view the discount as an opportunity as it provides access to similar portfolios and strategies offered by open-end funds, but at a discount to the price investors would pay for open-end funds.
One consistent theme from the industry leaders was the need to educate investors on the CEF structure. There is a perception that the lack of understanding contributes to the discounts to NAV. In addition, more publicity is needed to increase awareness of the benefits of CEFs. Taken together, these could help discounts narrow and increase the use of CEFs in investors' portfolios.
---
Since 1929, Adams Funds has consistently helped generations of investors reach their investment goals. Adams Funds is comprised of two closed-end funds, Adams Diversified Equity Fund, Inc. (NYSE:ADX) and Adams Natural Resources Fund, Inc. (NYSE:PEO). The Funds are actively managed by an experienced team with a disciplined approach and have paid dividends for more than 80 years across many market cycles. The Funds are committed to paying an annual distribution rate of 6% or more, providing reliable income to long-term investors. Shares can be purchased through our transfer agent or through a broker. For more information about Adams Funds, please visit: www.adamsfunds.com.
For further information, please contact:
Lyn Walther
Director of Shareholder Communications
410.752.5900 or 800.638.2479
email